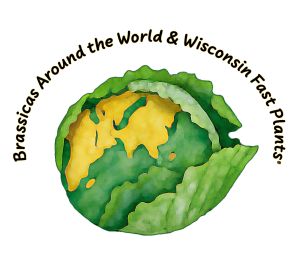 Scientists build on the work of the Father of Fast Plants, Paul Williams, and other Brassica researchers.
Using evidence from a wide variety of biological, physical, and cultural sources, ethnobotanists from UW-Madison are giving us new insights into the origins and worldwide diversity of Brassicas. Eve Emshwiller and her former graduate student Alex McAlvay (now a botanist at New York Botanical Gardens) led this research, which was published in the journal Molecular Biology and Evolution.
Our Wisconsin Fast Plants Program team then worked with Alex McAlvay to update one of our popular teaching resources from the early 1990s, called Around the World with Brassicas, creating a new set of resources that includes:
Lesson Plans A complete set of lesson plans and resources for an inquiry that includes a selection experiment with Fast Plants and a strong research component. These lessons were developed with both the BSCS 5E and Gather, Reason, Communicate instructional models and to investigate and explain the variation we see in Brassicas. In addition, these lessons are intentionally designed to support culturally responsive teaching.
10-minute video for use with students This video was written and produced as an easy-to-understand source of scientifically accurate Brassica evolution information that is interestingly intertwined with the global cultural contexts. Students can pull evidence from this video that is relevant and valuable for developing an explanation for the variation we see in today's Brassicas.